RVC Launches Medical Assistant Program
According to the US Bureau of Labor Statistics, employment of Medical Assistants is projected to grow 18 percent from 2020 to 2030, much faster than the average for all occupations. More Medical Assistants are employed by practicing physicians than any other type of allied health personnel.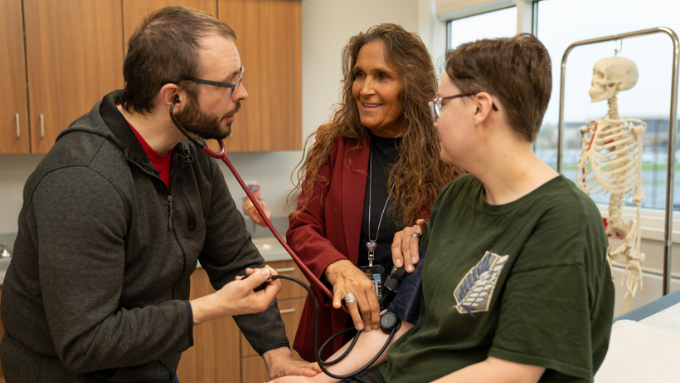 Employers of Certified Medical Assistants in the Rockford region are eagerly awaiting program graduates; however, there has not been a local training program from which they can recruit. Until now.
RVC is excited to launch the only Medical Assistant program in the Rockford region that offers an Associate of Applied Science Degree. Local Medical Assistant employers helped design this program to ensure a high-quality one for graduates to find employment opportunities. Crusader Clinic is one of the community partners involved in the program.
According to Crusader Clinic's Director of Clinical Operations, Shayna Chiarelli, "We have eight locations, and a majority are operated by medical assistants. We have 58,000 patients, so they're an integral part of our primary care practice."
RVC was approached by UW Health, MercyHealth, OSF, Crusader Clinic, and Ortho Illinois in 2017 about starting the medical assistant program. There were a few glitches along the way, including the COVID pandemic. Thankfully, the program has finally come to fruition.
"We have open seats for students, with our first cohort starting in May 2023," said Ellen Njolstad-Oksnevad, RVC Dean of Nursing and Allied Health.
Medical Assistant work focuses on Ambulatory Care, which is the practice of providing medical services in an outpatient setting. This type of care can include treatment of patient diagnosis, observation, orthopedic care, treatment, intervention, rehabilitation services and minor surgical care—without requiring patients to enter a hospital. Typical work settings include surgical centers, occupational health, treatment centers, doctor's offices, primary care offices, cardiology, and pediatrics, OBGYN and many other specialized services.
Highlights of RVC's Program
A high-quality program that seeks Gold Standard accreditation through CAAHEP (Commission on Accreditation of Allied Health Education Programs).
The only Medical Assistant program in Rockford seeking CAAHEP accreditation.
The curriculum follows the Medical Assistant Education Review Board (MAERB) core curriculum, as required by CAAHEP.
Graduates will be eligible to sit for the AAMA exam and earn the gold standard credentials AAMA-CMA.
Hands-on Learning
Clinical learning experiences are embedded in courses, giving students early experience in the medical clinic. This early exposure to the work of the Medical Assistant will place the student at a considerable advantage when it comes time for the 180-hour externship at the end of the program. Students will rotate through different specialty clinics, applying knowledge and skills learned in theory and skills lab. They will be well prepared for a successful externship.
Cost
The cost of the two-year degree is the most affordable in the area at around $10,000.
The program costs include all courses in the 60-credit degree (Gen Eds and core classes) and course requirements. Crusader Clinic offers $1,000 scholarships through the Rock Valley College Foundation to students who choose our Medical Assistant Program. Scholarship information can be found at rockvalleycollege.edu/foundation.
For more information on our classes, please contact Colinda Kram, Medical Assistant Program Coordinator, at 815-921-3272 or c.kram@rockvalleycollege.edu.