RVC Honors 34th Faculty of the Year Recipient
Rock Valley College is proud to announce Dr. Mathew Oakes, assistant professor of English, as the 34th recipient of the Rock Valley College Faculty of the Year Award.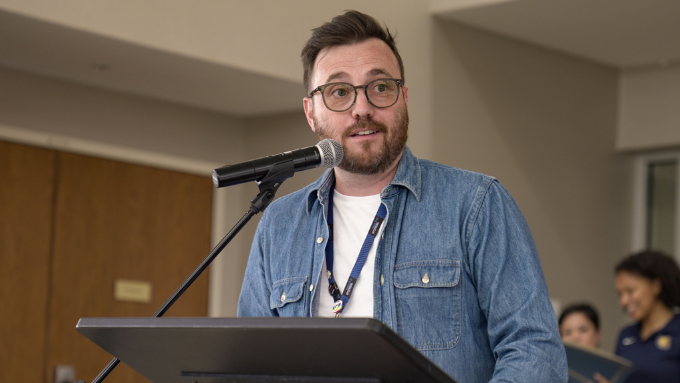 "I love this place more than I think I can explain. I have been privileged to find my way here because I have been able to become the person that I hoped I would become because I've been here," an emotional Dr. Oakes said when accepting the award at RVC's Spring Employee Development Day. "I see this place for what it is: warts and all of its potential. I deeply believe in the liberatory, emancipatory potential of what we do day in and day out."
The Faculty of the Year award is presented to a tenured faculty member each year. In the fall, students are invited to nominate members of the faculty. Nominations are compiled by the Faculty of the Year committee chair and presented to the committee for discussion. The Faculty of the Year is chosen based on teaching experience, excellence, and service to the college and their community by their peers.
Here are some of the comments from the many student nominations received in support of Dr. Oakes:
"Being more than a professor, I believe Dr. Oakes, with his light-hearted spirit and charisma, gives every student a sense of belonging to this new chapter of our lives as college students."
"Dr. Oakes is a very gifted teacher of English. He is so helpful to all who need it, but he also lets you work at your own pace. He is supportive of everyone entering his classroom. He has made my English experience better."
"He is extremely personable and makes the classroom feel fun while learning at the same time. He's also very forgiving in terms of life getting in the way of work, and he helps students get back on track without making them feel bad about themselves."
"His care for his students is obvious and genuine. He is a perfect fit for students new to the college experience. He communicates often; he is positive and encouraging. I am grateful to have had him as a professor."
Dr. Oakes joined the Golden Eagle family in 2010 when his oldest child was just six weeks old. As an assistant professor of English, he teaches writing and literature courses at RVC. In addition, he has been a longstanding member of the Promoting an Inclusive Community Committee, where he served as chair for 2022-2023. He is a proud member of the Rockford community, where he resides with his partner Courtney and their three children: Liam, Molly, and Libby.
Assistant Professor of Biology Moria Nagy, presented the award to Dr. Oakes on behalf of the Faculty of the Year Committee. "It has been said that compassion and a sense of social justice are woven into the fabric of Dr. Oakes's very meaning, and his care and dedication to his students' learning are exemplary. And because of this, we are honored to present him with this wonderful award."
He closed his acceptance speech by stating, "This is a place where our students can come back to and keep going. I just think that if we can really understand that the doors that we can open as educators has the possibility to liberate people, then the work we do will be transformed. This is sacred ground, and the work that we do is life-changing. I am honored and inspired to work with all of you."
Dr. Oakes has made and continues to make a great impact on RVC. Congratulations to him for this well-earned honor.