RVC Honor Society Breaks Down Stigma of Living with a Disability
Students with disabilities often face challenges academically as a result of their disability or because of the stigma surrounding disability. One honor society seeks to change that.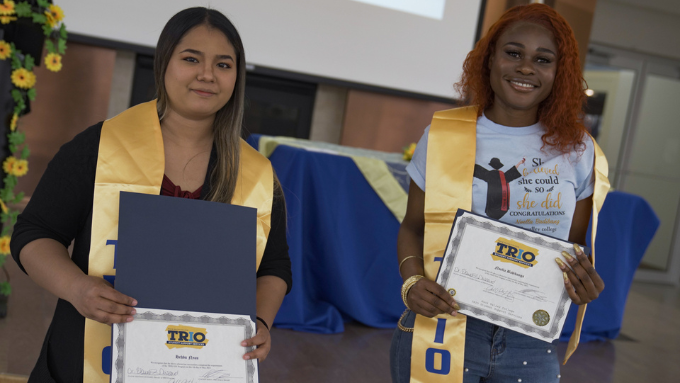 Delta Alpha Pi International Honor Society (DAP) is one of the only collegiate honor societies for students with disabilities. RVC's chapter, Delta Tau, was chartered in 2016. DAP's goal is to create an "aDAPtable" world by breaking down the stigma and providing students with disabilities a supportive place to connect with others.
The following students were inducted into RVC's Chapter of DAP on Friday, May 5, at a ceremony on RVC's main campus:
Lorinda Arbogast
Nancy Cronin
Kelsey Engelke
Cadie Hallerud
Helaina Nimmo
Jasmine Oley
Danielle Peterson
Zoe Reuter
Students can either apply to join the chapter or they are nominated by RVC faculty and staff. In order to be eligible for induction, students need to meet three criteria:
be registered with Disability Support Services or self-identify on their application as having a documented disability,
have a 3.1 cumulative GPA or higher, and
have completed 24+ college credits
"Delta Alpha Pi Club (and Honor Society) aims to be a resource for students. The club can serve as a safe space for students to share and learn from one another in a conscious effort to lessen the stigma surrounding disability."
In addition to the honor society, RVC also has a Delta Alpha Pi Student Club, which is open to all students on campus who are interested in learning about disability or disability issues.
The honor society and club are making a difference on campus and providing RVC students with a sense of belonging.
"The DAP Club is a place where my disabilities open doors instead of closing them."
About Delta Alpha Pi: Delta Alpha Pi is an international honors society that recognizes the abilities, contributions, & academic accomplishments of students with disabilities. The Society [& Club] seeks to challenge common misconceptions while helping members to develop skills in education, leadership, & advocacy. For more information, visit DeltaAlphaPiHonorSociety.org.