RVC proudly serves the northern Illinois region, linking talent to the workforce.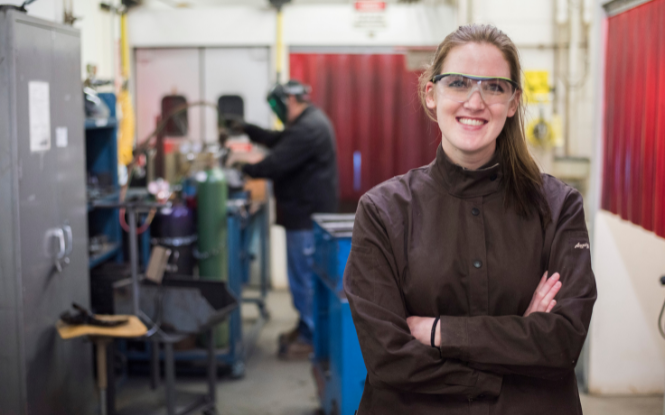 Customized Training
With customized training, the possibilities are endless. From group workshops to one-on-one training, get tailored solutions to meet the demands of your organization.
Empowering Our Workforce
26
Customized Trainings Offered in 2022-2023
Popular Trainings
Skill-Specific/Custom Training
8-Week CNC: Students will learn foundational skills, blueprint reading, CAD modeling, shop safety, and basic CNC machine knowledge. Students will learn entry-level machine operation and setup, CAM programing, and part processing.
Onsite CNC Training: Our trainers can come to your location to teach foundational skills, blueprint reading, CAD modeling, shop safety, and basic CNC machine knowledge among other skills.
FANUC Robot Training: This training includes: Robot Operations, Handling Tool Operations & Programming, and Handling Pro. Testing is required for the FANUC Level 1 Certificate.
Mechanics Test Prep: This training includes FAA mechanics certification with the following ratings: Airframe, Powerplant, and Airframe & Powerplant.
Machining 101
Shop Math
Blueprint Reading
Workplace ESL
Continuous Improvement
Six Sigma Training
Intro to LEAN
Empowering Teams for Change
Diversity, Equity, & Inclusion
Intro to DEI
Safe Space Training
Implicit Bias
Aligning Strategies with Equity Goals
Incorporating Equity into Everyday Work
Health Care
Basic Life Support CPR
LEAN for Healthcare
Cultural Competence

Marketing/Nonprofits
Effective Grant Writing
Building an Effective Brand
Social Media Basics for Business
Building Effective Presentations
Office Productivity
Microsoft Suite, including Access, Excel, Outlook, Teams, and Word
Adobe Acrobat
QuickBooks
Basic Online Security

Leadership & Team Development
Conflict Resolution
Leadership Development: Gain access to DISC, Strengths Finder, Interpersonal Skills, Conflict Resolution, Leading by Example, and be involved in a Post-Assessment Project.
Communication Skills for New Hires
Emotional Intelligence
Customer Service
High-Performing Teams and Leaders
Accountability
Successful Collaboration Strategies
Becoming Indispensable
Problem-Solving and Decision-Making
Workplace Safety
CPR/AED
First Aid
Bloodborne Pathogens
OSHA HAZWOPER
OSHA-10 and OSHA-30
Forklift Driver Certification
Aerial Life Certification
Basic Fire Safety
Threat Response

Testimonial
Amanda's counsel and guidance through weeks of ongoing meetings helped us to identify strengths and weaknesses in our partnership and company shortfalls/opportunities. For these reasons, I highly recommend Amanda in the areas of executive training and coaching.
Community Partner
regarding Amanda Kieper, RVC Trainer