State of Illinois High School Diploma (GED) & Adult Basic Education
When you are ready to commit to pursuing the next step in your education, our Adult Education program is ready to meet you where you are and help you achieve your goal of completing the State of Illinois High School Diploma (GED). We also offer basic skill instruction in Reading, Writing, and Math.
Get Started
Please complete the application and select a test date for your required reading assessment. Openings are available on a first-come basis. Google Chrome is the preferred browser for completing the application. Please select "GED (Adult Education)" as the type of application.
About the Program
The GED program provides instruction in language arts, science, social studies, and math to prepare students to complete their State of Illinois High School Diploma (GED), and to assist interested students in preparing for enrollment in college courses, training programs, and employment.
About GED Testing
The GED test includes four content areas: Reasoning through Language Arts, Social Studies, Science, and Math.
Students must achieve a passing score in each content area, plus complete an Illinois Constitution Module, in order to achieve the State of Illinois High School Diploma. The Regional Office of Education maintains all records related to GED testing and the State of Illinois High School Diploma.
Testing in this area is available through the Regional Office of Education in Loves Park or the Works! Center in Rockford. Eligible persons may test without taking classes. Schedule testing through GED.com.
Cost Fully Covered
All adult education programs are provided at no cost.
Contact Us
Adult Education
(815) 921-2000
RVC Downtown
99 East State Street
Rockford, IL 61104
Testimonial
I have five kids. My older son is 25. So, I wanted to show them that it doesn't matter how old you are or your limitations. You can do it. If it is something that you want to do, you can do it.
Maricela Garcia
2023 GED Graduate
Frequently Asked Questions
GED classes are offered in the spring and fall semesters. Classes meet between 2 and 4 days per week. Morning and evening classes are available and offered at several locations throughout the community. The classes are free, and students are expected to attend classes regularly and complete assigned work.
Our students represent a diverse population. Classes are offered to students who are 17 years or older, along with eligible 16-year-old students, who do not have a high school diploma or equivalency, or who lack basic skills, and who are NOT enrolled or required to be enrolled in high school. Students under the age of 18, in order to be eligible to participate in GED classes, are required to provide a letter of separation from high school.
Classes are FREE. Participants must be residents of the Rock Valley College District.
The length of time it takes a student to earn their diploma is based on the preparedness of the individual. Some students are ready to begin testing soon after beginning the class. Other students need several semesters of class in order to gain the academic skills needed to take the GED test. The Adult Education Instructors guide each student, on an individual basis, toward the steps needed in order for them to be successful and meet their academic and GED testing goals.
RVC hires professional GED Instructors to teach the classes at Rock Valley College. Instructors are highly skilled experts in teaching, and many hold specialized credentials, including teaching reading and teaching mathematics. GED instructors individualize the instruction to meet the needs of every student in the class. The instructors also receive at least 12 hours of professional development every year in order to maintain their skills and knowledge in teaching.
The Rock Valley College GED program:
Includes highly qualified instructors
Connects students with the Adult Education Transitions Coordinator, who offers support for enrollment in college and training programs
Provides a GED graduation ceremony, complete with cap and gown
Offers opportunities for students to earn vouchers to pay for GED testing fees
Offer a fast-track program for students who have achieved high academic skills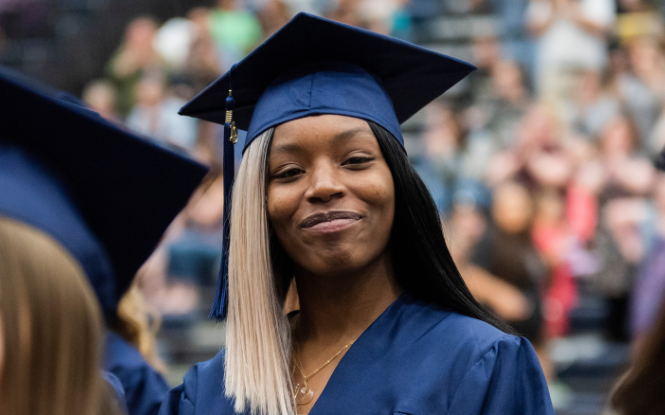 Next Steps
Need help transitioning into college or a career after your Adult Education classes? Our Transitions Coordinator can help you with one-on-one career exploration, applying to college, finding funding for college, referrals to other agencies, and more! To get started, make an appointment with the Transitions Coordinator at (815) 921-4296.
Approximately 53.76% ($401,067) of total grant dollars to the Adult Education Program are provided through federal funding. Rock Valley College provides, on an individualized basis, reasonable accommodations to students who have documented disabilities that may affect their ability to participate in class activities or meet class requirements. Students with disabilities are encouraged to contact the Adult Education Office at (815) 921-2000 to discuss their needs for accommodations. Rock Valley College does not discriminate on the basis of race, color, creed, religion, national origin, disability, age, sex, marital status, or sexual orientation.