RVC Graduate Named Illinois Student Veteran of the Year
Ryan Russell, a 2023 graduate of Rock Valley College, has been named Illinois Student Veteran of the Year by the Illinois Department of Veteran Affairs (IDVA) and the Military Order of the Purple Heart (MOPH). This marks the fourth year for the award and the first community college recipient.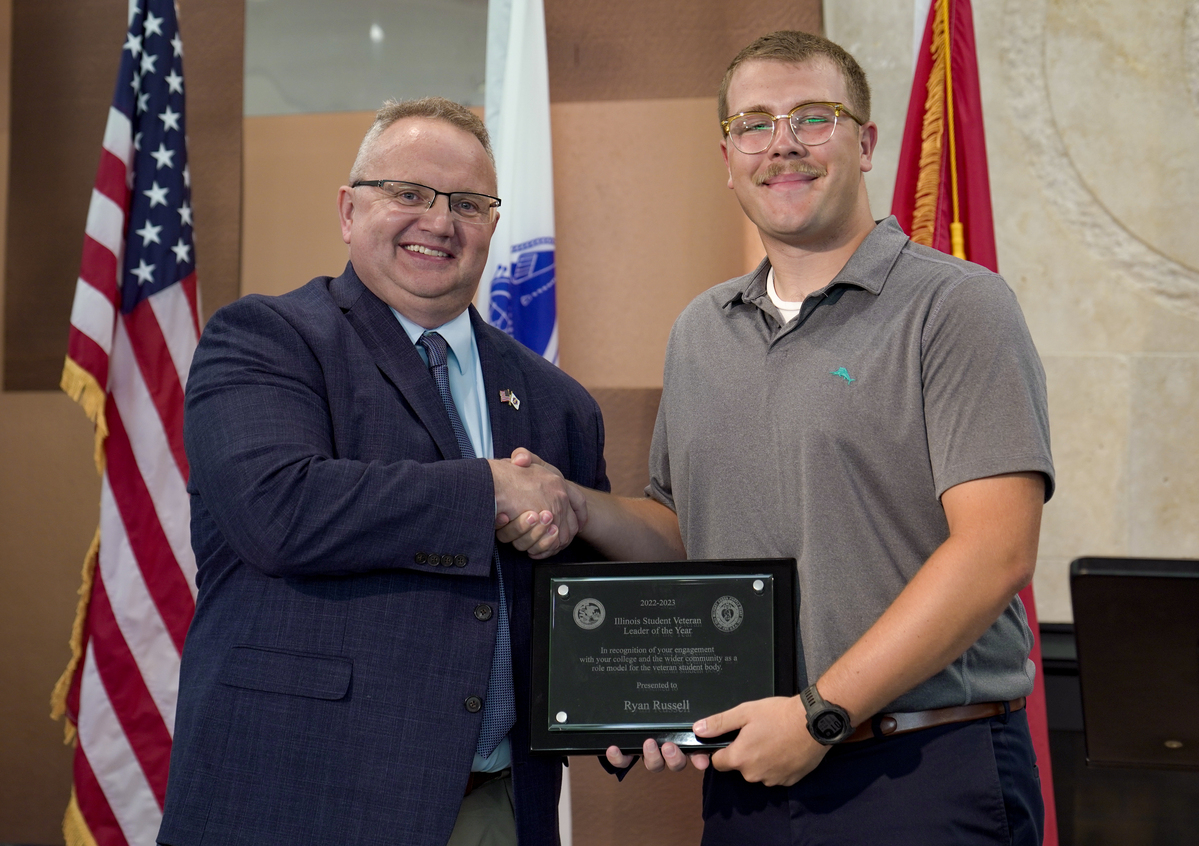 The purpose of the Illinois Student Veteran Leader of the Year Award is to recognize student veterans for the quality of their engagement with their college/university and/or the wider community. Recipients portray both strong leadership characteristics and academics. They serve as a role model for the student veteran body by volunteering, participating in events, excelling in school, reaching out to fellow student veterans, and portraying an overall positive attitude.
"We are pleased to recognize Ryan Russell with the Illinois Student Veteran Leader of the Year Award for his leadership and dedication to the student veteran community at Rock Valley College," said IDVA Director Terry Prince. "We thank him for his continued military service and applaud him for his him for his efforts to ensure that student veterans had access to resources and a community to support them throughout their educational experience."
Russell, a 2020 graduate of Byron High School, started his military contract/obligation on active duty and is now finishing with the Air National Guard. He completed his Associate of Arts Degree while serving as a member of the RVC Student Veterans of America Chapter where he served as the vice president and president. During his time at RVC, Russell was a member of RVC's chapter of the national honor society, Phi Theta Kappa, and RVC Student Government Association. In addition, he was a student worker in the RVC Veterans Affairs office and served as the college's Student Trustee during the 2022-2023 academic year. This spring, Russell was the recipient of the Eagle Award of Excellence in Diversity, Equity, and Inclusion in the student category.
During the pandemic, Russell enrolled in classes at RVC. Milana Herman, RVC Program Manager for Veterans and Student Employment, fondly remembers that first meeting with Russell. After assisting Russell enroll, he asked her, "Now that we've got that out of the way, how can I help you and the veteran community here on campus?"
She took him at his word and put him to the test. While Herman was taken aback, she explained, "This kind of question is typically associated with a particular leadership quality, and that's servant leadership."
In addition to his leadership and involvement on campus, Russell is also very involved in the community-at-large. He currently serves on the board of the Vets Drop In Center and has facilitated partnerships with local VFWs, AMVets, and the NWVU Rockford SheVets. Through his efforts, he has helped to raise funds for initiatives such as Veterans Smile Program, Rock House Kids, and free bus passes for veterans.
"Ryan intentionally has conversations with those around him regardless of age, gender, nationality, and seamlessly connects to the most random individuals. This innate ability to connect with those around him made him a good choice for student trustee, leadership positions within RVC Student Veterans Association, and it is why so many community leaders continue to seek out his participation for various events and programs," said Herman.
The award was presented to Russell at a ceremony on RVC's main campus on Wednesday, July 26. The event included remarks from Anthony Vaughn (IDVA Assistant Director), Dr. Howard Spearman (RVC President), and Dan Wellman (Illinois MPOH State Senior Vice Commander).
Past recipients of the Illinois Student Veteran of the Year:
Matt Cuttright, University of Illinois
Amanda Deprew, Southern Illinois University
Carly May Fournier, Loyola University