RVC Employees Lead Workshop for Global Educators
Attendees at the October American Association of Colleges and Universities (AAC&U) Conference on Global Learning were able to learn from RVC's very own Danielle Hardesty (professor of philosophy) and Dr. Lisa Mehlig (executive director of outcomes assessment/HLC liaison).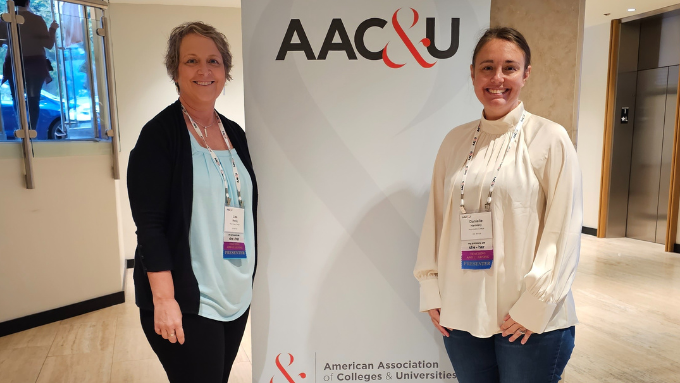 Together, the dynamic duo shared their expertise in the area of equity-based assessment practices.
Their session, Creating a Culture of Assessment through Equity-Based Practices, fit right into the conference theme – Meeting Global Challenges. The conference takes a deep dive into teaching, learning, and innovation with the goal of helping all students succeed in a global, interconnected world. According to AAC&U, "Through an array of in-depth sessions and workshops, the conference explored the most relevant topics around global learning, community-based learning, and other high-impact practices in a global context." The conference attracted educators from around the world.
While some might be apprehensive about facilitating a learning experience on Friday the 13th, the duo was excited to share a glimpse into the great assessment work happening here at RVC. From the start, they shared an essential thread in developing global learning in the classroom -- ensuring assessment practices are accessible and equity-centered. Here at RVC, that included challenging faculty and staff to focus assessment practices on the student populations that are not achieving the program and course learning outcomes.
In the workshop, Danielle and Lisa collaboratively identified factors and obstacles that prevent students from achieving learning outcomes. Through visual mapping, they identified the factors within the college's realm of influence. Then, using equity-based practices – including Universal Design Learning, Understanding by Design, and storytelling – they examined best practices in addressing those factors. Through the workshop, they created greater insight into how to think of assessment practices in terms of equity, how to facilitate buy-in on assessment practices, and how to create a cross-campus culture of assessment.
The duo is taking this show on the road! Next stop was the 2023 Assessment Institute in Indianapolis hosted by Indiana University and Purdue University Indianapolis. Suzanne Miller joined them to research and create Reaching the 25%: Creating a Culture of Assessment through Equity-Based Practices. According to the conference organizers, attendees at the conference represent all fifty states and several countries.
Thank you to Danielle, Lisa, and Suzanne for representing RVC on the national and global stage.