RVC Athletics takes on Region 4 Tournament in Madison
This weekend, the city of Madison, Wisconsin will play host to an extraordinary sports event, as the Rock Valley College Men's Soccer, Women's Soccer, and Women's Volleyball teams prepare to compete in the NJCAA Region 4 DII Tournaments. What makes this event even more remarkable is that this is the first time both soccer teams have advanced to the regional finals in the same season.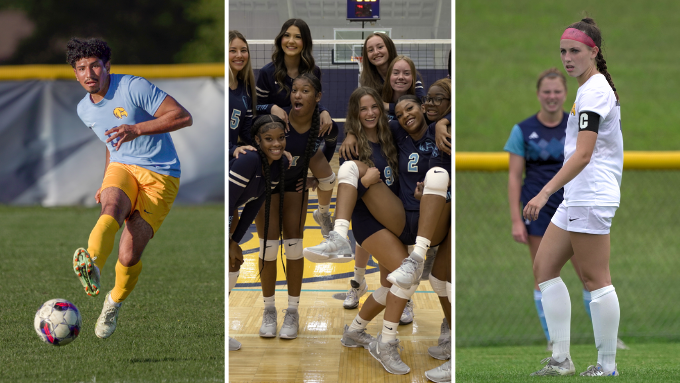 On Saturday, November 4, you can catch all the action at Madison College in Madison, Wisconsin.
Men's Soccer: In the semifinals, RVC's Men's Soccer team secured a nail-biting 1-0 victory against Carl Sandburg, earning their spot in the finals. They will go head-to-head with Prairie State College at 12 p.m. this Saturday. Victory in the final would guarantee them a place in the 2023 NJCAA DII National Tournament. Head Coach Tim Romanello emphasized the significance of the final, stating, "Saturday's final is the ultimate way to showcase our players and our program. It's our region's pinnacle game. That's special. It's a rewarding accomplishment for any program and a testament to all the hard work we've put in." He stressed the ultimate goal was not just reaching the final but winning it.
Women's Soccer: RVC's Women's Soccer team also had an impressive journey to the finals, winning their semifinal against Morton College with a score of 1-0. Their final showdown is scheduled for 2:30 p.m. on the same day, where they will face South Suburban. Head Women's Soccer Coach, Kevan Watkins, spoke highly of his team, "We have had a fantastic group of talented and fun young ladies. Their personalities, leadership qualities, and attitudes continue to push each other to achieve." He praised their hard work, both in the classroom and on the field, highlighting their record-breaking achievements this season. "It has been so enjoyable to watch them grow as a team and continue to improve each week."
Women's Volleyball: The RVC Women's Volleyball team emerged victorious with a 3-0 win against South Suburban, setting the stage for their semifinal match against Carl Sandburg at 6 p.m. this Saturday. The program has secured a spot in the region finals the last five seasons and hope to continue that tradition this weekend. If they win, the team will advance to the final on Sunday, November 5, at 2:30 p.m. Head Coach Kristy Pierce shared her excitement, "We are excited to be back in the final four of the Region 4 tournament. We have to continue taking things one point and one game at a time."
With high hopes and unwavering determination, the RVC Golden Eagles are excited to be competing in the NJCAA Region 4 DII Tournament for National Tournament appearances.