Phi Theta Kappa Honors Spring Inductees
The 2023 Phi Theta Kappa Spring Induction Ceremony was not only a time to honor students for their high academic achievement, but it was also a time when two RVC leaders surprised one another to honor their dedication to student success.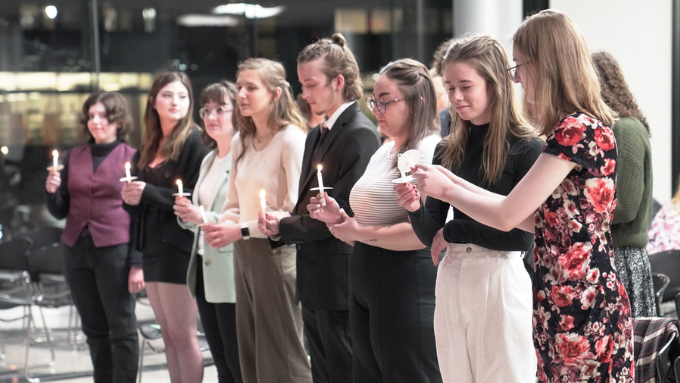 Much to his surprise, RVC's President, Dr. Howard Spearman, was presented with an honorary pin recognizing his long-standing commitment to RVC's chapter of PTK. Tim Spielman, PTK Advisor, was the second surprise when Dr. Spearman honored him for more than two decades of exemplary service as the chapter's advisor.
During his keynote address, Dr. Spearman praised Tim for his dedication, "RVC's chapter of PTK was chartered on April 28, 1976, and is considered the oldest continuous student organization on campus. Since 2002, Tim has served as the advisor. Under his leadership, the chapter has received approximately 50 regional, national, and international awards."
To recognize Tim's dedication and commitment to Phi Theta Kappa, an engraved brick will be placed in the Alpha Courtyard of Phi Theta Kappa International Headquarters in Jackson, Mississippi. In addition, Tim received a special honor pin to recognize his contributions to student success at RVC.
Following his keynote address, Dr. Spearman received the honorary PTK membership pin from Tim. "Since he first came to RVC, Dr. Spearman has been very supportive and student-focused. As president, he is making a concerted effort to change the culture of leadership at the college, and we appreciate those efforts."
Following the surprise recognitions of Dr. Spearman and Tim Spielman, the students listed below joined the legacy of leadership at RVC through their induction into RVC's Omicron Eta Chapter of Phi Theta Kappa. To be formally inducted into Phi Theta Kappa, students must have completed at least 12 credit hours and have a minimum 3.5 cumulative GPA.
Regan Baird
Anthony Becerra
Madison Block
Morgan Bond
Audrey Brilinski
Philip Broski
Lexa Campbell
Sean Champion
Olivia Costello
Madison Cropper
Anna Dausman
Jacob Dausman
Gabrielle Dobek
Tyree Ellis
Bethzy Felix-Sanchez
Abbigale Fennessy
Vesta Ferguson
Miranda Fischer
Isabella Garrelts
Timothy Granderson
Mikayla Gray
Katelyn Guilfoyle
Kirsten Hage
Alexis Hall
Olivia Hammond
Jennifer Hazlewood
Aaron Henning
Isaac Hernandez
Aaron Hicks
Samantha Jacobs
Matthew Jacobson
Zachary Joiner
Benjamin Keho
Kristin Landerholm
Mazzerene Laplante
Tegan Lundington
Charlie Martini-Guse
Tracy Mason
Miguel Medina
Taw Meh
Samantha Metz
Kayle Mickey
Doriana Mierow
Alaina Neumann
Helaina Nimmo
Alyssa Novachek
Isaac Oldenburg
Hardik Patel
Kaia Peterson
Sofia Piscocama
Kennedy Powers
Trace Quinn
Fynn Remhof
Judy Sabido
Erin Schier
Haley Smith
Marilu Soto
Alexander Stanuch
Anna Stechschulte
Gabriella Sterenberg
Jonathon Stinson
Anthony Sturms
Lily Sweich
Nareysy Vallejo
Daniela Valles
Liana Vasquez
Meredyth Wayman
Melissa Weiand
Kathyrn Whitacre
Congratulations to all of this spring's inductees. For more information on the Omicron Eta Chapter of Phi Theta Kappa, contact advisor Tim Spielman at t.spielman@rockvalleycollege.edu or (815) 921-4104.